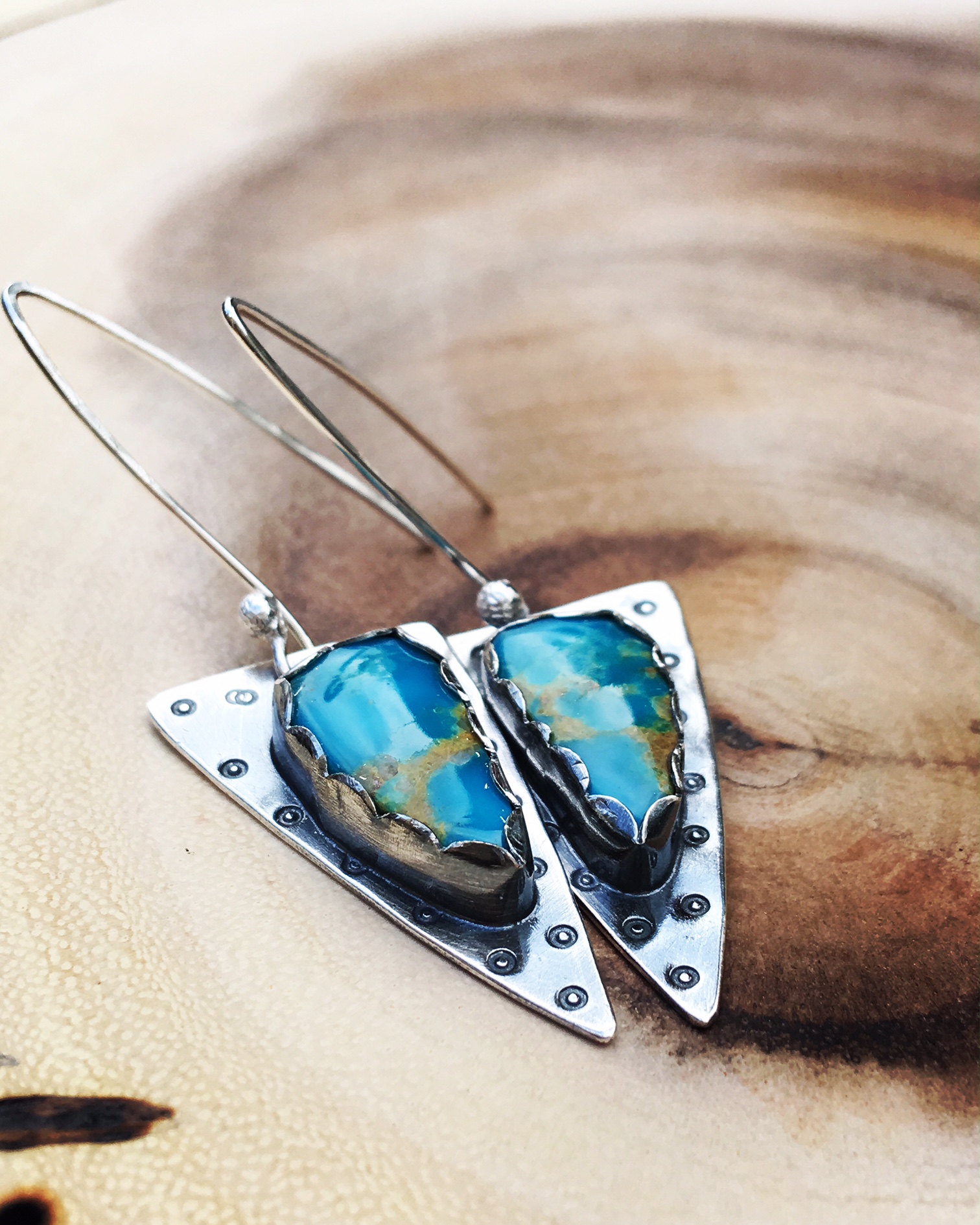 Meet Amy
Working with my hands has always been a part of my life. Since I could move I have been collecting skills and creating things. Minnesota, with its extensive art community, has very much influenced my work. Lake life, Native American Culture and travel inspiration have been working their way into my pieces. I create jewelry that I like to wear first and foremost and then I share them. My recent focus is making pieces that invoke a story I want to tell or maybe a message I'd like to convey. Each piece is a chapter of that story. There is always an ongoing list of creations being planned on paper and in my thoughts. I am ever grateful to be an art warrior and a student of life and travel. Family and working with my hands are the two most important parts of my existence.
I reside in Excelsior, MN.
Custom Orders Available.
FAQ & Policies
PAYMENT:
Paypal and Stripe accepted. Payment is accepted at the time of purchase.
SHIPPING:
Unless otherwise mentioned, I ship USPS Priority in the USA (takes 2-3 days). Ready made items are packaged and shipped within 48 hours of payment.
Custom Orders have a lead time of 2-6 weeks dependent upon the nature of the order.
I include insurance up to $50.00 on all orders.
SIZING DETAILS:
If you are able to it is best to go to a local jewelry shop and get sized. Most good jewelry shops are more than willing to size you upon request.
BANGLES:
For BANGLES the size is most dependent upon your fist size. You can take out a Bangle you have already at home that is a great fit and measure the inside diameter. Contact me via email with this number and we can choose your size. You may also refer to the general interior diameter sizing below:
Very Small: Interior Diameter 2-2/16"
Small: Interior Diameter 2- 4/16"
Medium: Interior Diameter 2- 6/16"
Medium Plus: Interior Diameter 2- 8/16"
Large: Interior Diameter 2- 10/16"
X Large: Interior Diameter 2- 12/16"
You may also try the following method:
You will need a flexible tape measure or a piece of string and a ruler.
Make your hand as small as possible, as if you were putting on bangles, bringing your thumb and little finger together.
Using the tape measure (or string), measure around your hand at the widest point (the tape measure should be pulled tight, not loose). Make note of the actual circumference of your hand (if you used string, make a mark where the string meets, then measure the length with your ruler to get your hand circumference).
Send me this number via email and I will help you choose your correct Bangle size.
RING SIZING:
For RINGS the size of your knuckle is the determining factor of what size ring will fit you. Again a great idea is to stop by a reputable jewelry shop and ask them to size you. I do have available for purchase in my shop an affordable option of a home plastic ring sizer. You can purchase this and I will send it to you to size yourself. It is very important that you order an accurate ring size. Please use as directed. This ring sizer works like a belt. Make the belt first and then slide on OVER the knuckle (the sizer will read the correct size to the left of the arrow when the sizer slides over the knuckle easily without forcing it. Instructions included. Note: Order 1/2 size up please for all wide band rings and stacker ring sets. Once a ring with stone is set I am unable to resize a ring again. Please take care in this process….thank you!
REFUNDS AND EXCHANGES:
I want you to be pleased with your purchase, as each item is a little piece of me! One week to let me know there are any issues. After that it is yours. All CUSTOM AND PERSONALIZED orders are FINAL and firm.
Customers are responsible for return shipping cost. If the item is not returned in its original condition, the customer is responsible for any loss in value.
MINNESOTA SALES TAX:
Amy Sabatier Designs is located in Minnesota. Following state and federal laws, MN residents and items shipping within MN pay a rate of 6.875% sales tax for goods purchased. Residents and shipping addresses outside of MN this will not apply.
SHIPPING RATES:
Domestic shipping includes $50 USPS insurance. In my shop you have an option to purchase additional insurance if your item is valued at more than $50.00. Please consider doing this as items can occasionally get lost or damaged in shipment.
U.S. + Puerto Rico: $7.95 USPS Priority Mail (typically 2–5 days) and $50.00 insurance. Please feel free to buy additional insurance available in my shop. Amy Sabatier Designs is not responsible for lost or missing items.
INTERNATIONAL
Canada: $16.50 USPS First Class Mail (tracking is only available for some countries)
Everywhere else: $21.50 USPS First Class Mail. Additional Insurance is recommend. We can track within the US but outside of the US all countries and stops do not always scan.
Customers/Buyers are responsible for all customs and import taxes that may apply. I am not responsible for a delivery delay due to customs.
Priority Mail for International customers available upon request. Pricing will vary.
PRIVACY POLICY:
Your shipping and billing address will only be used by me to process and fulfill your order or for legal reasons such as paying my taxes!
CARE AND INSTRUCTIONS:
Please take care of these one of a kind pieces! I recommend removing them while swimming, showering, bathing, dish washing, exercising, gardening, heavy work, sleeping etc. Keep your jewelry free of perfume, lotion and oils. This can cause some damage or unwanted darkening over time. Avoid using harsh chemicals or jewelry cleaners so as not to damage the surface of your stones or potentially change the patina used on your piece. If you would like to clean your piece use a little warm water and a soft cloth/very soft toothbrush gently. Some delicate chains are not meant to be worn while sleeping….please keep this in mind and your pieces will be very happy you did! When not wearing your jewelry you can store it in a clear plastic bag to avoid further patina that may take place as a result of exposure to the elements.